Innovation is alive and well in aged care interior design
Posted on 3 December 2019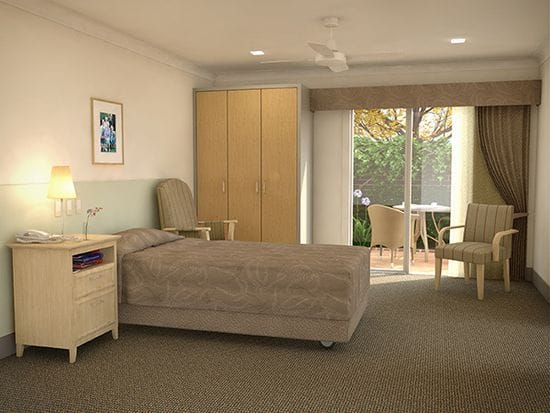 Custom designing and developing products and prototypes that improve the health and wellbeing of the elderly, including people living with dementia and other cognitive impairments, is a real passion for us at B2 Property Solutions. Whenever we are presented with a challenge for which finding an off-the-shelf product proves to be difficult or even impossible, rather than changing the concept, we work out a way to create the solution ourselves. Sometimes that results in us custom designing a brand new product for our client and the industry. Let's take a look at an example.
Our 'Bedroom 2 You' concept was born from a desire to resolve the number one hurdle for all aged care operators who wish to renovate either single rooms or entire cottages - procurement logistical issues. It traditionally takes a minimum of twenty weeks from concept engagement to construction commencement onsite; meaning handover often takes place several weeks later.
The design concept for our in-house custom-designed 'Bedroom 2 You' product takes on board the best bedroom fitout and furnishing concepts we have worked on coupled with all the lessons we have learned over many years' partnering with more than fifty aged care properties throughout Australia. Our exposure to real people living and working within aged care homes enabled us to take on board real lessons about how we could better support their needs while simultaneously speeding up the overall project delivery for operators.
To create the concept, we custom developed carpets, fabrics, healthcare beds and other specialised furniture to encapsulate the best for residents' needs at a value for money price point. We worked with a number of contractors and product manufacturers to develop the pricing model we felt would fit within the average construction budgets we had been exposed to through our clients. Best of all, weknew we could achieve the full occupant-ready refurbishment of four bedrooms using our Bedroom 2 You concept in just five days rather than the standard twenty plus weeks.
We took the concept to five aged care operators we had never worked with before. Each commented favourably on the fact that our Bedroom 2 You product would save them from having to run their occupancy down to zero for a renovation, which is traditionally what they have had to do.
Naturally this also creates enormous benefits for residents. Research has shown that moving elderly residents often and for extended periods of time increases the incidence of untimely and unexpected death as people struggle with the stress of change.
Other examples of our custom-designed products include various customised artworks, furniture pieces, fabrics and healthcare beds and Historical Stories, an idea that was inspired by a literary technique and based on scientific research around the benefits of memory joggers for people in the early stages of dementia and Alzheimer's disease.
In short, our in-house product and prototype design service responds to a request to solve a problem, fill a need or enhance your residents' living experience within your homes.
What's the number one interior design challenge you are facing right now?